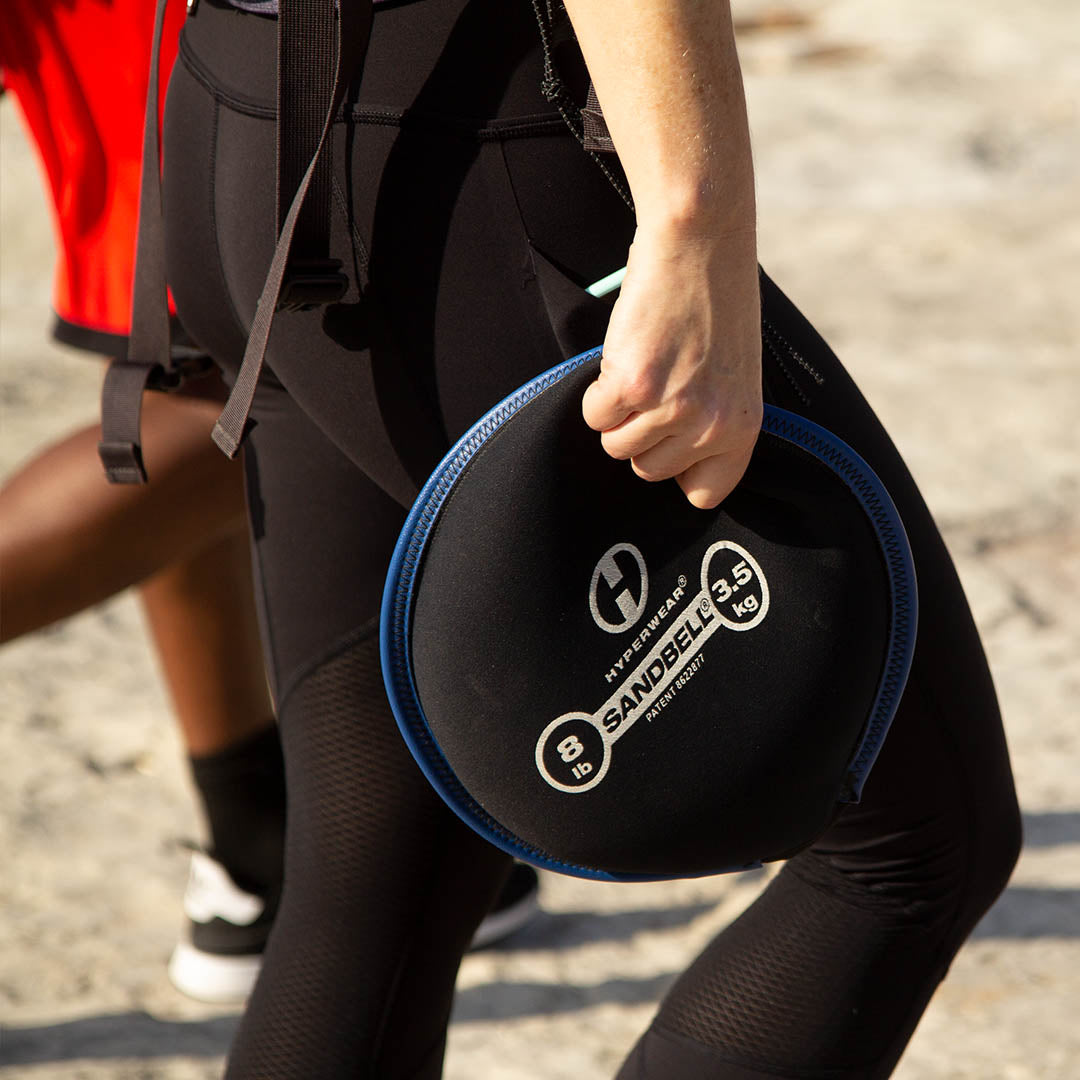 WORKOUT SANDBAGS IMPROVE FULL BODY STRENGTH, CORE STRENGTH AND GRIP
Hyperwear is the leading innovator in dynamic functional fitness workout sandbags. Our leak-free patented SandBell and SteelBell free weights were invented in 2009. We continue to advance sandbag workouts with the SandBell PRO and the workout Sandbag System using SandBell filler bags to make weight adjustment fast and accurate. The combination of an 8 handled workout sandbag and multiple removable SandBells are the most versatile workout sandbags you can buy. The best feature? We ship pre-filled with USA sourced clean sand. Our line of functional sand weights was born out of a need for a slam ball medicine ball that would not fail. The SandBell was quickly adopted by strength and conditioning professionals. Shifting sand is dynamic, requiring you to activate your core to stabilize shifting weight. We call this Functional Performance Training™.
How to choose the best workout sandbag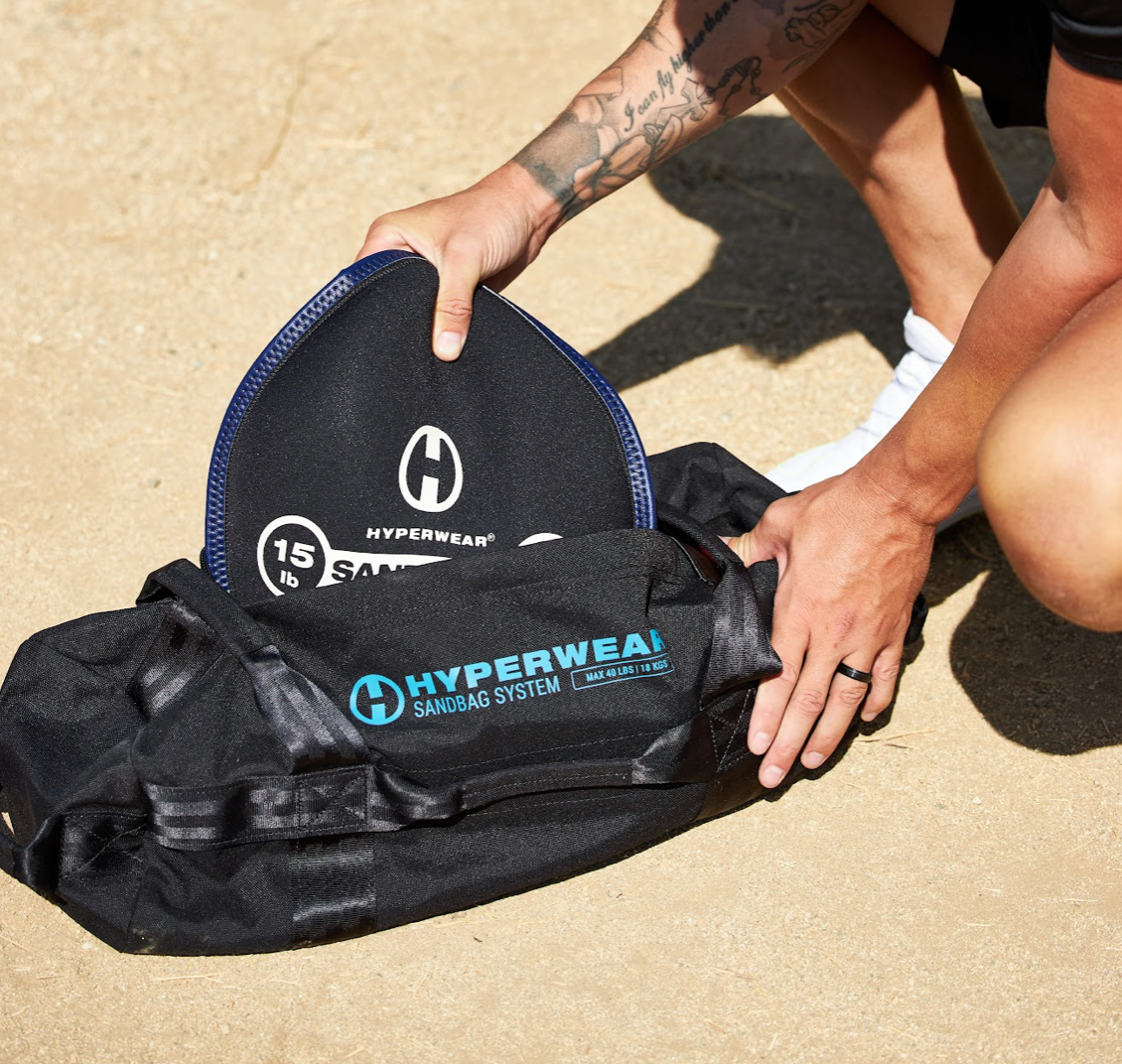 LEVEL-UP WITH THE HYPERWEAR SANDBAG SYSTEM OF WORKOUT SANDBAGS
Taking sandbag workouts up to the next level is the Hyperwear Sandbag System combining the best features of sandbags with handles and solving their worst features. Our handled sandbags ship already filled and ready to go when they arrive by using pre-filled SandBells. Available sandbag weights from 25 lbs to 160 lbs strongman sandbags. No unexpected cost, trip to buy sand, or mess from filling. SandBell filler bags make it easy to quickly know an accurate weight. To adjust weight simply open the zipper for a fast change of weight. With the pairing of individual SandBell free weights and a handled sandbag weight, you have an endless variety of exercises and sandbag workouts to choose from. SandBell Sandbag Strength Training System named "Best Sandbag" in Men's Health 2022 Fitness Awards.
Workout Sandbags
When you work out with Hyperwear's SandBells, SteelBells, Sandbag System and Strongman Sandbags you get a versatile, full-body workout that's great for strength training, grip, balance exercises, core strength and functional fitness. Read more.
While both products offer dynamic resistance, SandBells are filled with sand, and SteelBells are filled with steel shot making them half the size for the same weight. This gives SteelBells a unique dynamic intensity level, adding to the challenge and results you will get.
Yes. Hyperwear's Sandbag System comes with an assortment of leak-proof SandBell weights. Each is marked with its weight and has a patented color rim to make it easy to identify and adjust. Our Training page has sandbag workouts and tons of free videos. https://hyperwear.com/pages/train Read more
SandBells and the Sandbag system are excellent training tools for athletes of all kinds from children's physical education through adults. SteelBells are the best workout sandbag for athletes from youth to elite professionals. Hyperwear Strongman Sandbags are for power lifters, crossfit and body builders.
SandBells, SteelBells, Handled Sandbags, and Strongman Sandbags can be used outside. Avoid using on abrasive ground like asphalt and rough concrete. Do not expose the SteelBells to rain. For maintenance of neoprene just clean with a damp cloth and let air dry. Odoban or Fabreeze can be used. Do not store outside in the open and avoid letting them get soaked with water.
Functional Training
More Tools