CoolOver™ Lightweight Flexible Cooling Vest for Athletes
Quantity:
Pickup available at 2120 Denton Drive
Usually ready in 2-4 days
CoolOver™ Lightweight Flexible Cooling Vest for Athletes
2120 Denton Drive
Pickup available, usually ready in 2-4 days
2120 Denton Drive
Ste 101
Austin TX 78758
United States
+15129960808
CoolOver™ Lightweight Flexible Cooling Vest for Athletes
Features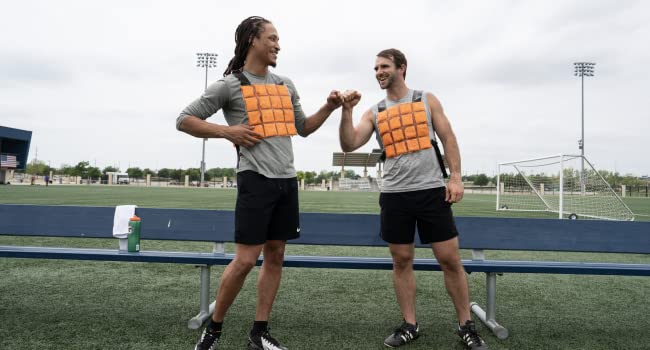 Advanced Athletic Cooling
The CoolOver performance cooling vest for athletes offers the first practical heat stress solution for team and individual sports from youth to professional. Competitors in hot, humid outdoor conditions in football, soccer, baseball, track and field, crossfit, tennis, fishing, golf and motor sports can pre-cool for performance gains, cool at half-time, on the sidelines or post game for recovery or to help protect from heat stress. Ground breaking simple patented design by INUTEQ eliminates the need for a fabric vest to hold cooling packs creating a better cooling vest for athletes. Sold in one size with adjustable side straps to fit most. Available in mulitiple cooling points starting at 4C/44F (orange), the phase change packs are above freezing so they can even be worn against the skin reducing the risk of freezer burn from water based ice vests. Design allows for movement making it possible for use during practice in hot conditions. A cooling vest for women or men with flexible comfort design. Duration of cooling varies depending on the PCM cooling point and conditions. Expect at least 45 mins in typical conditions. Extra CoolOver vests can be swapped out for longer use. Just activate in ice water in a sideline cooler or locker room or home refrigerator freezer compartment in 30-60 minutes. Lay flat when activating and allow to sit for 5 minutes to begin to soften for best results. A better womens cooling vest due to adjustable straps. Proven effective in demanding sports such as F1 race drivers wearing under safety suits to stay cool while driving or recover after a race. Also useful for spectators to stay cool.